Grapes and producers from Italy and around the world.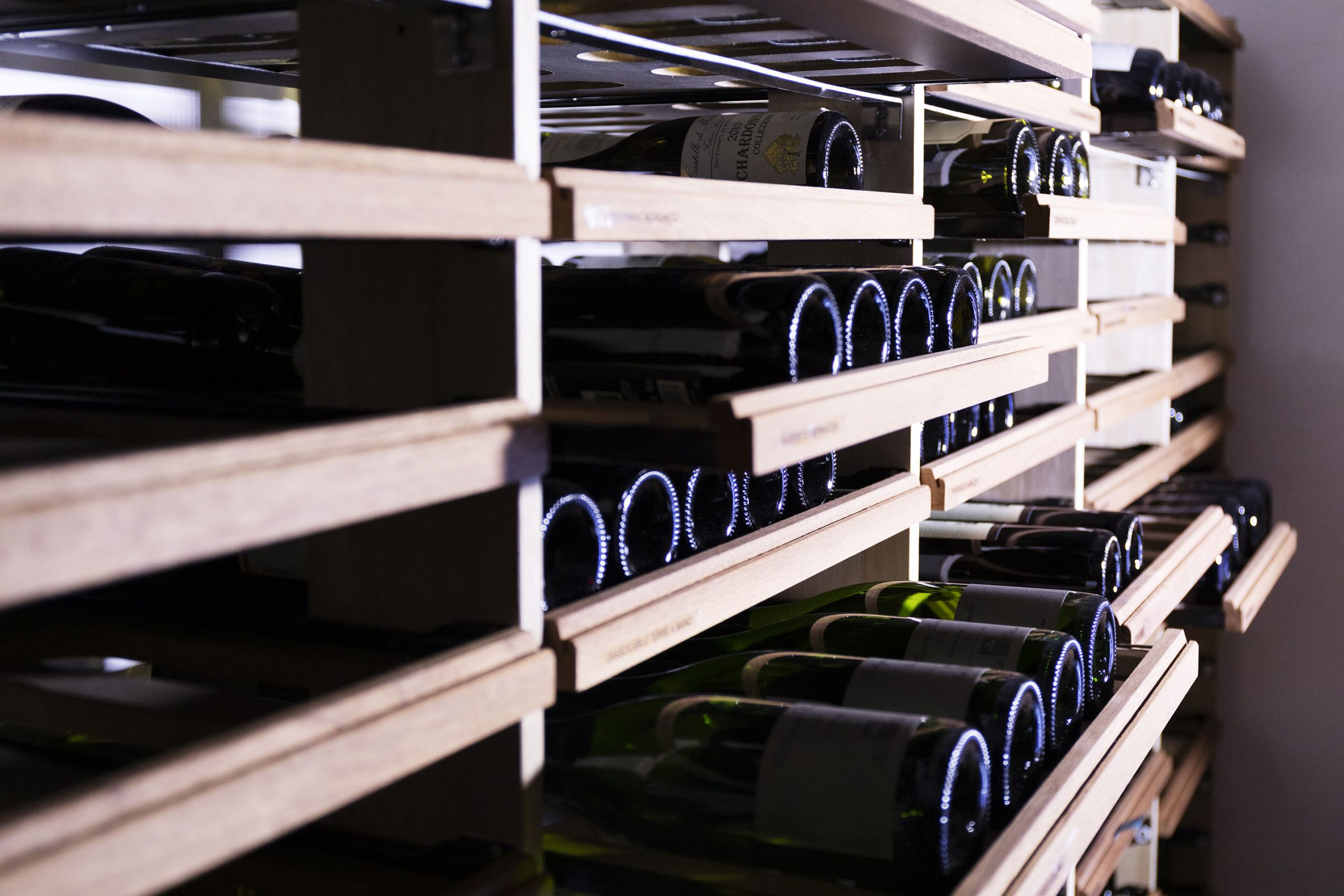 Premium bottles and magnums for every occasion.
Karime's menu is inspired by her own international career and culinary travels, as well as the global origins and experience of her team and her passion for art and music. She challenges the traditional perception of Italian cuisine, creating playful takes on classic dishes.
---

Toscana

Pomino Bianco, Metodo Classico DOC Brut 2018

70€

Leonia

---

Pomino Rosè, Metodo Classico DOC Brut 2018, Leonia

100€

Leonia

---

Mauvais Chapon, Rosato Metodo Classico 2016

110€

Villa Calcinaia

---

Trentino Alto Adige

Clou, Trento DOC Pas Dosé 2018

80€

Giulio Larcher

---

Rosè, Trento DOC Pas Dosé 2018

80€

Giulio Larcher

---

Ferrari Perlè, Trento DOC Brut Riserva 2017

90

Ferrari

---

Ferrari Perlè, Trento DOC Brut Riserva 2011

110

Ferrari

---

Ferrari Perlè Bianco, Trento DOC Brut Riserva 2009

110

Ferrari

---

Ferrari Riserva Lunelli, Trento DOC Brut Riserva 2012

150

Ferrari

---

Giulio Ferrari" Riserva del Fondatore, Trento DOC Extra Brut Riserva 2010

330

Ferrari

---

Giulio Ferrari" Riserva del Fondatore, Trento DOC Extra Brut Riserva 2008

350

Ferrari

---

Giulio Ferrari Rosé" Riserva del Fondatore, Trento DOC Extra Brut Riserva 2010

470

Ferrari

---

Bruno Lunelli, Trento DOC Riserva 2006

1300

Ferrari

---

Friuli Venezia Giulia

Ribolla Gialla, Spumante Brut 2022

50€

Dario Coos

---

Veneto

Frizzante Rifermentato in Bottiglia, Colli Trevigiani IGT 2021

40€

Ca' dei Zago

---

Lombardia

Franciacorta Saten Brut DOCG 2018

70€

Ferghettina

---

Franciacorta "Cuvée Prestige" Brut

80€

Ca' del Bosco

---

Franciacorta "Cuvée Prestige" Brut

170€

Magnum - Ca' del Bosco

---

Cuvée 60 Blanc de Blancs, Zèro 2017

120€

Casa Caterina

---

Cuvée 60 Rosè, Extra Brut

120€

Casa Caterina

---

Franciacorta Fuoriserie N.024 Brut

120€

Cabochon

---

Franciacorta Rosè Fuoriserie N.06 Brut

240€

Cabochon

---

Franciacorta 2014 Brut

250€

Cabochon

---

Franciacorta Doppio Zero 2016 Brut Nature

250€

Cabochon

---

Vintage Collection, Franciacorta Riserva Dosage Zéro R.S. 2007

220€

Ca' del Bosco

---

Annamaria Clementi, Franciacorta Riserva Dosage Zéro 2014

270€

Ca' del Bosco

---

Emilia Romagna

Albone, Lambrusco di Modena DOP

40€

Podere Il Saliceto

---

Leclisse, Lambrusco di Sorbara DOC

40€

Paltrinieri

---

Rosé, Lambrusco di Sorbara Metodo Classico Brut 2016

60€

Cantina Della Volta

---

"Il Mattaglio" Metodo Classico Dosaggio Zero

60€

Cantina Della Volta

---

Sgurgheghel, Lambrusco di Sorbara

60€

Il Prof

---

Les Rois, Cuvée Première Metodo Classico Pas Dosè

68€

Podere Pavolini

---

Calabria

Non Sense, Magliocco Canino Frizzante Ancestrale Rosè IGP 2021

50€

Casa Comerci

---

Sicilia

Gassa D'Amante, Grillo Frizzante Ancestrale IGP 2021

50€

La Vela

---

Germany

Steinbock, Alcohol Free Sparkling

40€

Dr. Fischer

---

Blanc de Blancs Brut 2017

70€

Franz Keller

---

Japan

Sorah Japan's Premium Sparkling Sake

200€

Chiyomusubi

---

---

---

Francia

Tradition Brut D'Assemblage

120€

Pierre Brocard

---

Tradition Brut D'Assemblage MAGNUM

240€

Pierre Brocard

---

L'Egarèe Millesimè 2014

140€

Pierre Brocard

---

Contrée Noire, Pinot Noir Extra Brut 2017

140€

Pierre Brocard

---

Contrée Noire, Pinot Noir Extra Brut 2017 MAGNUM

370€

Pierre Brocard

---

L'Homme 1er cru Extra Brut Riserva

170€

Roger Coulon

---

Collection 244

200€

Louis Roederer

---

Réserve Perpétuelle Grand Cru, Blanc de Blancs Extra Brut

210€

Robert Moncuit

---

Terre De Vertus blanc De Blanc 2015

280€

Larmandier Bernier

---

L'Ouverture Extra Brut Premier Cru

200€

Frederic Savart

---

L'Accomplie Extra Brut Premier Cru

280€

Frederic Savart

---

Demi-Sec 2014

180€

André Beaufort

---

Demi-Sec Grand Cru Reserve Polisy

280€

André Beaufort

---

Blanc de Noirs RSRV Grand Cru 2012 Brut

230€

Maison Mumm

---

Cuvée Lalou 2008 RSRV

240€

Maison Mumm

---

La Vigne D'Or, Blanc de Meuniers Brut Nature 2004

250€

Tarlant

---

Saignée Des Tempetees , Rosè de Saignée Brut Nature 2015

300€

Tarlant

---

Le Crayères Grand Cru, Blanc de Noirs Brut

550€

Egly-Ouriet

---

La Grande Dame 2012 Yayoi Kusama

290€

La Grande Dame

---

La Grande Dame 2012 Rosè

900€

La Grande Dame

---

La Grande Dame - Magnum

400€

La Grande Dame ST Petersbourg

---

La Grande Dame 2008 - Magnum

750€

La Grande Dame

---

Brut Reserve, Brut

200

Bérêche & Fils

---

Campania Remensis, Rosè Extra Brut 2017

340€

Bérêche & Fils

---

Les Beaux Regards, Blanc De Blanc Nature

340€

Bérêche & Fils

---

Mailly Grand Cru, Extra Brut 2014

420€

Bérêche & Fils

---

Rilly Grand Cru, Extra Brut 2014

420€

Bérêche & Fils

---

Reflet D'Antan, Solera Brut

420€

Bérêche & Fils

---

Cuvée n° 740 Extra Brut Dégorgement Tardif - Magnum

650€

Jacquesson

---

Dizy-Terres Rouges 2013 Extra Brut

450€

Jacquesson

---

Dizy-Corne Bautray 2012 Extra Brut

550€

Jacquesson

---

Dizy-Corne Bautray 2004 Extra Brut Dégorgement Tardif

900€

Jacquesson

---

Dizy-Corne Bautray 2004 Extra Brut Dégorgement Tardif - Magnum

1600€

Jacquesson

---

Avize-Champ Cain 2004 Extra Brut Dégorgement Tardif

600€

Jacquesson

---

Avize-Champ Cain 2004 Extra Brut Dégorgement Tardif - Magnum

1600€

Jacquesson

---

Cristal 2014 Brut

550€

Louis Roderer

---

Dom Pérignon Vintage 2012 Brut

480€

Dom Pérignon

---

Dom Pérignon Rosé Vintage Brut 2009

750€

Dom Pérignon

---

Rare Brut 2008

480€

Piper-Heidsieck

---

Rare Brut 1999 - Magnum

1000€

Piper-Heidsieck

---

Rare Brut 1998 - Magnum

1000€

Piper-Heidsieck

---

Rare Rosé Brut 2008 - Magnum

2000€

Piper-Heidsieck

---

---

Krug 171ème Edition, Grande Cuvée Brut

400€

Krug

---

Krug 170ème Edition, Grande Cuvée Brut

400€

Krug

---

Krug 168ème Edition, Grande Cuvée Brut - Magnum

1500€

Krug

---

Krug Rosé 27ème Edition

600€

Krug

---

Krug 2006 Brut

800€

Krug

---

Krug 2008 Brut

900€

Krug

---

Krug Collection 1988

3500€

Krug

---

Krug Clos Du Mesnil 2006

4000€

Krug

---

---

---

Toscana

Aryah, Sauvignon Blanc IGT 2022

50€

Tenuta La Macchia

---

"Albino" 2022 Il Cellese

60€

---

L'Erta, Trebbiano IGT 2020

60€

Marchionni

---

L'Albereta, Vernaccia di San Gimignano Riserva DOCG 2020

80€

Il Colombaio di Santa Chiara

---

Sassocarlo Terre a Mano IGT 2020

90€

Bacchereto

---

Vermentino Bolgheri Grattamacco DOC 2021

80€

Grattamacco

---

Trebbiano VD Monteraponi 2021

180€

Monteraponi

---

Paleo Bianco IGT 2021

180€

Le Macchiole

---

Gorgona, Vermentino IGT 2022

220€

Frescobaldi

---

Gorgona, Vermentino IGT 2022 - Magnum

400€

Frescobaldi

---

Chardonnay "Collezione Privata" IGT 2021 - Magnum

290€

Isole e Olena

---

Trentino Alto Adige

Sylvaner, Valle Isarco DOC 2021

65€

Thomas Dorfmann

---

Declivi, Sauvignon Riserva DOC 2019

80€

Maso Corno

---

Vorberg, Pinot Bianco Riserva DOC 2020

90€

Terlan

---

Friuli Venezia Giulia

Pinot Grigio Ramato, Friuli DOC 2022

40€

Attems

---

Malvasia Istriana "Chioma Integrale" IGT 2021

75€

Vignai Da Duline

---

Morus Alba DOC 2020

80€

Vignai Da Duline

---

Ribolla IGT 2014

190€

Gravner

---

Ribolla IGT 2014 - Magnum

380€

Gravner

---

Ribolla IGT 2011 - Magnum

380€

Gravner

---

Ribolla IGT 2010 - Magnum

430€

Gravner

---

Ribolla IGT 2009 - Magnum

450€

Gravner

---

Ribolla IGT 2008 - Magnum

450€

Gravner

---

Ribolla IGT 2003 - Magnum

550€

Gravner

---

Ribolla Gialla IGT 2020 Venezia Giulia

550€

Paraschos

---

"Kai" IGT 2020 Venezia Giulia Bianco

500€

Paraschos

---

Veneto

Soave Classico "La Rocca" DOC 2021*

70€

Pieropan

---

Valle d'Aosta

Blanc De Morgex Et De La Salle DOP 2022

40€

Ermes Pavese

---

Piemonte

Erbaluce di Caluso "Le Chiusure" DOCG 2020

60€

Camillo Favaro

---

Erbaluce di Caluso "13 Mesi" DOCG 2021

70€

Camillo Favaro

---

"Educato" Chardonnay Langhe 2021 DOC

90€

Elio Grasso

---

Gaia&Rey, Langhe DOP 2020

600€

Gaja

---

Gaia&Rey, Langhe DOP 2016

900€

Gaja

---

Gaia&Rey, Langhe DOP 2015

900€

Gaja

---

Gaia&Rey, Langhe DOP 2011

960€

Gaja

---

Liguria

Vermentino "Argille Grigie" DOC 2021

80€

Il Monticello

---

Vermentino "Cavagino", Colli di Luni DOC 2022

80€

Lunae Bosoni

---

Vermentino "Groppolo" - Magnum

140€

Il Monticello

---

Emilia Romagna

Malvasia "Sorriso di Cielo" Colli Piacentini DOC 2021

50€

la Tosa

---

Marche

Verdicchio di Matelica Riserva "Senex" DOCG 2018

100€

Bisci

---

B6, Marche Bianco IGT Verdicchio Bizza

120€

Fattoria San Lorenzo

---

B6, Marche Bianco IGT Verdicchio Bizza - Magnum

240€

Fattoria San Lorenzo

---

Verdicchio Classico di Jesi "Villa Bucci" Riserva DOCG 2018

140€

Bucci

---

Verdicchio Classico di Jesi "Villa Bucci" Riserva DOCG 2017

160€

Bucci

---

Verdicchio Classico di Jesi "Villa Bucci" Riserva DOCG 2016

160€

Bucci

---

Verdicchio Classico di Jesi "Villa Bucci" Riserva DOCG 2004

320€

Bucci

---

Verdicchio Classico di Jesi "Villa Bucci" Riserva DOCG 2015 - Magnum

280€

Bucci

---

Verdicchio Classico di Jesi "Villa Bucci" Riserva DOCG 2010 - Magnum

420€

Bucci

---

Verdicchio Classico di Jesi "Villa Bucci" Riserva DOCG 2004 - Magnum

600€

Bucci

---

Abruzzo

Trebbiano d'Abruzzo DOC 2019

240€

Valentini

---

Trebbiano d'Abruzzo DOC 2018

240€

Valentini

---

Trebbiano d'Abruzzo DOC 2017

240€

Valentini

---

Campania

Don Chisciotte, Fiano IGT 2019

55€

Zampaglione

---

Greco di Tufo "Picoli" DOCG 2018

60€

Bambinuto

---

Polveri della Scarrupata, Terre del Volturno IGT 2018

120€

Nanni Copè

---

"Alessandra" DOCG 2013 Fiano di Avellino

150€

Di Meo

---

"Erminia" DOCG 2004 Fiano Di Avellino

240€

Di Meo

---

Sicilia

Strallo, Grillo DOC 2021

50€

La Vela

---

Randa, Zibibbo DOC 2021

50€

La Vela

---

Pianta, Etna Bianco DOC 2019

120€

Ciro Biondi

---

Slovenija

Malvazija Istriana 2021

70€

Vinogradi Fon

---

Vitovska 2020

90€

Vinogradi Fon

---

France

Sancerre Phillipa AOC 2019

90€

Domaine Paul Cherrier

---

Saint-Veran Les Terres Noires AOC 2018

80€

Famille Paquet

---

Les Clapas AOC 2021

100€

Domaine du Pas de L'Escalette

---

Terroir de Fleys, Chablis AOC 2021

110€

Patrick Piuze

---

Vaulorent, Chablis 1er Cru AOC 2021

190€

Patrick Piuze

---

Blanchots, Chablis Grand Cru AOC 2021

260€

Patrick Piuze

---

Chassagne Montrachet AOC 2020

220€

Domaine Bertrand Bachelet

---

Puligny Montrachet Les Enseigneres 2020

240€

Florence Cholet

---

Meursault-Poruzot Premier Cru AOC 2018

300€

Domaine Jobard-Morey

---

Meursault-Poruzot Premier Cru AOC 2019

300€

Domaine Jobard-Morey

---

Meursault-Poruzot Premier Cru AOC 2020

300€

Domaine Jobard-Morey

---

Meursault Charmes Premier Cru AOC2020

350€

Domaine Jobard-Morey

---

Château-Grillet Viognier 2018

1000€

Rhone

---

Spain

Quinta Apolonia, Verdejo Vino de la Tierra de Castilla y Leon 2017

55€

Belondrade

---

La Bastid, Rioja DOC 2019

70€

Olivier Rivière

---

Greece

Santorini PDO 2020

75€

Artemis Karamolegos

---

Pyritis PDO 2021

120€

Artemis Karamolegos

---

---

---

Toscana

Aurora IGT 2022

50€

Fattoria Poggerino

---

Rosato IGT 2022

50€

Tenuta di Carleone

---

Materia IGT 2022

50€

Tenuta La Macchia

---

Gioièllae IGT 2022

50€

Ormae Vinae

---

Sicilia

Rosato Etna DOC 2022

40€

Cottanera

---

Francia

Rock Angel 2022

100€

Chateau D'Esclans

---

---

---

Toscana

Bocca Di Selva, Syrah Cortona DOC 2019

70€

Tenuta Angelici

---

Colombaio Riserva, San Gimignano DOC 2019

80€

Il Colombaio di Santa Chiara

---

Colombaio Riserva, San Gimignano DOC 2016

110€

Il Colombaio di Santa Chiara

---

Acciaiolo 2018 Toscana IGT

90€

Castello Di Abola

---

Carmignano Terre a Mano IGT 2019

90€

Bacchereto

---

Bucerchiale, Chianti Rufina Riserva DOCG 2019

85€

Selvapiana

---

Bucerchiale, Chianti Rufina Riserva DOCG 2015

150€

Selvapiana

---

Bucerchiale, Chianti Rufina Riserva DOCG 2013

175€

Selvapiana

---

Bucerchiale, Chianti Rufina Riserva DOCG 2010

190€

Selvapiana

---

Bucerchiale, Chianti Rufina Riserva DOCG 2009

220€

Selvapiana

---

Bucerchiale, Chianti Rufina Riserva DOCG 2007 - Magnum

350€

Selvapiana

---

Sopra, Pinot Nero IGT 2018

90€

Fattoria Brena

---

Terricci IGT 2013

90€

Lanciola

---

Salco, Nobile di Montepulciano DOCG 2017

90€

Salcheto

---

Pinot Nero IGT 2019

110€

Cuna

---

Pinot Nero IGT 2012 Scarlett Letter

300€

Cuna

---

SermpreMai EraOra, Abrostine IGT 2015

140€

Cuna

---

San Leone IGT 2015

100€

Castello Sonnino

---

Poggio De' Colli IGT 2018

130€

Piaggia

---

MilleEottantatre, Petit Verdot IGT 2011 - 500ml

130€

Usiglian del Vescovo

---

Oreno2018

330€

Tenuta Sette Ponti

---

Vigna dell'Impero DOC 2018

330€

Tenuta Sette Ponti

---

Vigna dell'Impero DOC 2013

450€

Tenuta Sette Ponti

---

Chianti Classico

Vigna Barbischio, Chianti Classico Riserva DOCG 2020

80€

Maurizio Alongi

---

Poggerino Riserva Bugialla 2020

110€

Poggerino

---

San Lorenzo, Chianti Classico 2020

140€

Castello Di Ama

---

San Lorenzo, Chianti Classico 2019

150€

Castello Di Ama

---

San Lorenzo, Chianti Classico 2016

170€

Castello Di Ama

---

Sangioveto "Fabrizio Bianchi" IGT 2010

300€

Castello di Monsanto

---

Sangioveto "Fabrizio Bianchi" IGT 1999

350€

Castello di Monsanto

---

Chianti Classico Gran Selezione "Il Poggio" DOCG 2018

140€

Castello di Monsanto

---

Chianti Classico Gran Selezione "Millennium" DOCG 2013

140€

Famiglia Losi

---

Montevertine IGT 2019

140€

Montevertine

---

"Il Guercio" IGT 2021

140€

Tenuta di Car Leone

---

"Il Guercio" IGT 2021 - Magnum

350€

Tenuta di Car Leone

---

Baron Ugo IGT 2018

140€

Monteraponi

---

Cepparello IGT 2019

240€

Isole e Olena

---

Cepparello IGT 2019 - Magnum

550€

Isole e Olena

---

Sammarco IGT 2018

130€

Castello dei Rampolla

---

Sammarco IGT 2016

150€

Castello dei Rampolla

---

Sammarco IGT 2012

240€

Castello dei Rampolla

---

D'Alceo IGT 2017

300€

Castello dei Rampolla

---

D'Alceo IGT 2014

340€

Castello dei Rampolla

---

D'Alceo IGT 1998

800€

Castello dei Rampolla

---

Sor Bruno DOCG 2016 Chianti Classico Gran Selezione

400€

---

Le Pergole Torte IGT 2019

360€

Montevertine

---

Le Pergole Torte IGT 2016

500€

Montevertine

---

L'Apparita, Collezione Privata IGT 2020

700€

Castello Di Ama

---

L'Apparita, Collezione Privata IGT 2019

700€

Castello Di Ama

---

L'Apparita, Collezione Privata IGT 2015

750€

Castello Di Ama

---

L'Apparita, Collezione Privata IGT 2011

800€

Castello Di Ama

---

Montalcino

Rosso di Montalcino DOC 2020

160

Poggio di Sotto

---

Brunello di Montalcino "Piero" DOCG 2018

240

Talenti

---

Brunello di Montalcino "Piero" DOCG 2016

300

Talenti

---

Brunello di Montalcino Riserva "Pian di Conte" DOCG 2018

180

Talenti

---

Brunello di Montalcino Riserva "Pian di Conte" DOCG 2018 - Magnum

330

Talenti

---

Brunello di Montalcino DOCG 2018

450

Poggio di Sotto

---

Brunello di Montalcino DOCG 2018 - Magnum

900

Poggio di Sotto

---

Brunello di Montalcino Riserva DOCG 2016

900

Poggio di Sotto

---

Brunello di Montalcino Riserva DOCG 2012

1000

Biondi Santi

---

Brunello di Montalcino Riserva DOCG 1998

3300

Biondi Santi

---

Bolgheri

Le Gonnare, Bolgheri Superiore DOC 2020

100€

Fabio Motta

---

Clinio Rosso 2021

130€

Tenuta Ortense

---

Magari Marcanda 2020 Bolgheri DOP

130€

Gaja

---

Guidalberto IGT 2021

120€

Tenuta San Guido

---

L'Alberello, Bolgheri Superiore DOC 2020

130€

Grattamacco

---

Grattamacco, Bolgheri Superiore DOC 2020

190€

Grattamacco

---

Paleo Igt 2019

210€

Le Macchiole

---

Marianova, Bolgheri Superiore DOC 2018

330€

Michele Satta

---

Camarcanda 2019 Bolgheri DOP

400€

Gaja

---

Camarcanda 2018 Bolgheri DOP

450€

Gaja

---

Camarcanda 2015 Bolgheri DOP

600€

Gaja

---

Messorio IGT 2019

450€

La Macchiole

---

Messorio IGT 2018

450€

La Macchiole

---

Ornellaia Bolgheri Superiore DOC 2020

550€

Tenuta Ornellaia

---

Bolgheri Superiore DOC 2018

550€

Fratini

---

Bolgheri Superiore DOC 2017

550€

Fratini

---

Sassicaia, Bolgheri DOC 2020

600€

Tenuta San Guido

---

Sassicaia, Bolgheri DOC 2019

700€

Tenuta San Guido

---

Sassicaia, Bolgheri DOC 2018

800€

Tenuta San Guido

---

Sassicaia, Bolgheri DOC 2017

900€

Tenuta San Guido

---

Sassicaia, Bolgheri DOC 2016

1300€

Tenuta San Guido

---

Sassicaia, Bolgheri DOC 2015

1200€

Tenuta San Guido

---

Sassicaia, Bolgheri DOC 2014

1200€

Tenuta San Guido

---

Sassicaia, Bolgheri DOC 2013

1200€

Tenuta San Guido

---

Sassicaia, Bolgheri DOC 2004

1400€

Tenuta San Guido

---

Sassicaia, Bolgheri DOC 2004 - Magnum

1700€

Tenuta San Guido

---

Sassicaia, Bolgheri DOC 2004 - 6lt Mathusalem

6000€

Tenuta San Guido

---

Masseto IGT 2019

1300€

Masseto

---

Masseto IGT 2018

1300€

Masseto

---

Piemonte

Verduno Pelaverga DOC 2021

55€

Comm. G.B. Burlotto

---

Verduno Pelaverga DOC 2020

55€

Comm. G.B. Burlotto

---

Sorì Paitin, Barbaresco Serraboella DOP 2019

90€

Paitin

---

Dolcetto D'Alba DOC 2021 Dei Grassi

90€

Elio Grasso

---

Acclivi, Barolo DOCG 2018 MAGNUM

800€

Comm. G.B. Burlotto

---

Cannubi, Barolo DOCG 2017 MAGNUM

900€

Comm. G.B. Burlotto

---

Barbera D'Alba "Francia" DOC 2020

500€

Giacomo Conterno

---

Barolo "Francia" DOCG 2018

500€

Giacomo Conterno

---

Barolo "Francia" DOCG 2017

500€

Giacomo Conterno

---

Barolo Francia DOCG 2016 - Magnum

1800€

Giacomo Conterno

---

Barolo Riserva DOCG 1985

1300€

Marchesi di Barolo

---

Barolo 2019 Ginestra Casa Mate

300€

Elio Grasso

---

Barolo 2019 Gavarini Chinera

300€

Elio Grasso

---

Barolo Bricco Rocche DOCG 2019

380€

Ceretto

---

Barolo Brunate DOCG 2016

380€

Ceretto

---

Barolo Brunate DOCG 2013

450€

Ceretto

---

Barbaresco DOCG 2020

200€

Ceretto

---

Barolo Prapò DOCG 2014

450€

Ceretto

---

Barbaresco Bernadot DOCG 2019

380€

Ceretto

---

Barbaresco DOCG 2018

700€

Gaja

---

Barbaresco DOCG 2016

1300€

Gaja

---

Barbaresco DOCG 2015

1400€

Gaja

---

Barbaresco DOCG 2014

900€

Gaja

---

Barbaresco DOCG 2013

950€

Gaja

---

Barbaresco DOCG 2001

1400€

Gaja

---

Barolo Cannubi DOCG 2012 - Magnum

1000€

Marchesi di Barolo

---

Barolo Cannubi DOCG 2011 - Magnum

1000€

Marchesi di Barolo

---

Barolo Cannubi DOCG 2001 - Magnum

1500€

Marchesi di Barolo

---

Barolo Cannubi DOCG 1991 - Magnum

1700€

Marchesi di Barolo

---

Barolo Riserva "Monfortino" DOCG 2015

1300€

Giacomo Conterno

---

Barolo Riserva "Monfortino" DOCG 2014

1200€

Giacomo Conterno

---

Valtellina

Valtellina Superiore "Inferno" 2020

100€

Marco Ferrari

---

Lombardia

Montebuono IGT 2020

120€

Barbacarlo

---

Montebuono IGT 2019

130€

Barbacarlo

---

Montebuono IGT 2018

140€

Barbacarlo

---

Montebuono IGT 2016

150€

Barbacarlo

---

Barbacarlo IGT 2020

160€

Barbacarlo

---

Barbacarlo IGT 2019

180€

Barbacarlo

---

Barbacarlo IGT 2018

190€

Barbacarlo

---

Barbacarlo IGT 2014

200€

Barbacarlo

---

Trentino Alto Adige

Gran Masetto, Terolgedo IGT 2016

160€

Endrizzi

---

Veneto

Valpolicella Ripasso Classico Superiore DOC 2020

40€

Antolini

---

Amarone della Valpolicella "Vigna Garzon" DOCG 2016

150€

Pieropan

---

Valpolicella Superiore DOCG 2015

260€

Dal Forno Romano

---

Amarone della Valpolicella "Monte Lodoletta" DOCG 2015

750€

Dal Forno Romano

---

Amarone della Valpolicella "Monte Lodoletta" DOCG 2008

900€

Dal Forno Romano

---

Friuli Venezia Giulia

Refosco dal Peduncolo Rosso, Venezia Giulia IGP 2018

45€

Dario Coos

---

Pignolo, Trevenezie IGP 2018

60€

Dario Coos

---

Pignolo, Trevenezie IGP 2018 - Magnum

150€

Dario Coos

---

Merlot, Venezia Giulia IGP 2018

110€

Dario Coos

---

Sacrisassi Rosso, Friuli C.O. DOC 2019

90€

Le Due Terre

---

Sacrisassi Rosso, Friuli C.O. DOC 2018

90€

Le Due Terre

---

Sacrisassi Rosso, Friuli C.O. DOC 2016

90€

Le Due Terre

---

Sacrisassi Rosso, Friuli C.O. DOC 2015

110€

Le Due Terre

---

Sacrisassi Rosso, Friuli C.O. DOC 2018 - Magnum

170€

Le Due Terre

---

Pinot Nero, Friuli C.O. DOC 2019

90€

Le Due Terre

---

Rosso, Friuli C.O. DOC 2019

150€

Miani

---

La Mont di Zuc, Refosco Friuli C.O. DOC 2019

240€

Miani

---

Emilia Romagna

Vignamorello, Gutturnio Superiore 2019

50€

La Tosa

---

"A" Rosso Rubicone IGT 2020

60€

Villa Venti

---

"AVI Sangiovese" Romagna Superiore DOC 2020

60

San Patrignano

---

"Montepirolo" Colli di Rimini 2020

60

San Patrignano

---

Sangiovese Predappio "Godenza" Romagna DOC 2019

90

Noelia Ricci

---

Sangiovese Predappio "Godenza" Romagna DOC 2019 MAGNUM

140€

Noelia Ricci

---

Lazio

Fiorano Rosso 2014

100€

Tenuta di Fiorano

---

Fiorano Rosso 2012

110€

Tenuta di Fiorano

---

Fiorano Rosso 1990

380€

Tenuta di Fiorano

---

Abruzzo

Montepulciano D'Abruzzo DOC 2017

450€

Valentini

---

Montepulciano D'Abruzzo DOC 2015

500€

Valentini

---

Campania

Taurasi DOCG 2015

60€

Di Prisco

---

Sabbie Sopra il Bosco, Collezione Privata 2015

130€

Nanni Copè

---

Sabbie Sopra il Bosco, Collezione Privata 2016

120€

Nanni Copè

---

R12 Sabbie Sopra il Bosco 2012

270€

Nanni Copè

---

Sicilia

Siccagno, Nero D'Avola DOC 2020

80€

Occhipinti

---

Sabbie di Sopra il Bosco, Collezione Privata 2015

150€

Nanni Copè

---

Sabbie di Sopra il Bosco, Collezione Privata 2016

150€

Nanni Copè

---

R12 Sabbie Sopra il Bosco 2012

270€

Nanni Copè

---

Sardegna

Perdixi, Isola dei Nuraghi IGT 2019

50€

Olianas

---

Cannonau, Romangia Rosso IGT 2015

140€

Dettori

---

Slovenija

Terrano Selezione 2018

160€

Vinogradi Fon

---

Svizzera

Rubro, Merlot Riserva Ticino DOC 2015

90€

Valsangiacomo

---

Gran Segreto, Forte Airolo Merlot Riserva Ticino DOC 2015

110€

Valsangiacomo

---

Germany

Malterdinger, Pinot Nero 2019

90€

Bernhard Huber

---

Spain

Ganko, Rioja DO 2018

120€

Olivier Rivière

---

Greece

Xinomavro "7 Klidia", Naoussa PDO 2018

60€

Ampeli

---

South Africa

The Chocolate Block 2021 - Magnum

250€

Boekenhoutskloof

---

California

Cabernet Sauvignon 2018

1250€

Eisele Vineyard-Napa Valley

---

Cabernet Sauvignon 2018 - Magnum

2600€

Eisele Vineyard-Napa Valley

---

Cabernet Sauvignon 2016 - Magnum

2600€

Eisele Vineyard-Napa Valley

---

France

No Sin Tou Tsefs Arbois Rouge2021

90€

Domaine Fumey Chatelain

---

Corail Rouge 2020

90€

Domaine Giudicelli

---

Le Pas De D. AOC 2020

110€

Domaine Du Pas De L'Escalette

---

Le Pas De D. AOC 2019

110€

Domaine Du Pas De L'Escalette

---

Le Pas De D. AOC 2017

110€

Domaine Du Pas De L'Escalette

---

Saint-Joseph Préface AOP 2018

110€

Pierre Jean Villa

---

Clos du Noyer, Chinon AOC 2020

140€

Domaine Grosbois

---

Clos du Noyer, Chinon AOC 2019

140€

Domaine Grosbois

---

Côte-Rôtie Fongeant 2017

360€

Pierre Jean Villa

---

France - Burgundy

Gevrey-Chambertin AOC 2021

200€

Henri Magnien

---

Gevrey-Chambertin AOC 2020

200€

Henri Magnien

---

Gevrey-Chambertin AOC 2020 - Magnum

450€

Henri Magnien

---

Gevrey-Chambertin Champerrier AOC 2021

300€

Henri Magnien

---

Gevrey-Chambertin Champerrier AOC 2020

300

Henri Magnien

---

Nuits-Saint-Georges AOC 2014

200

Domaine Julien&Fils

---

Nuits-Saint-Georges AOC 2018

250

Domaine Julien&Fils

---

Fourrier Bourgogne Pinot Noir 2020

700€

Domaine Jean Marie Fourrier

---

Les Bousselots 1er Cru, Nuits-Saint-Georges AOC 2018

270€

Domaine Julien&Fils

---

Les Bousselots 1er Cru, Nuits-Saint-Georges AOC 2017

270€

Domaine Julien&Fils

---

Les Bousselots 1er Cru, Nuits-Saint-Georges AOC 2016

270€

Domaine Julien&Fils

---

Estournelles Saint-Jacques, Gevrey-Chambertin 1er Cru AOC 2021

430€

Henri Magnien

---

Estournelles Saint-Jacques, Gevrey-Chambertin 1er Cru AOC 2020

430€

Henri Magnien

---

Côte De Nuits 2020

350€

Domaine Sylvain Cathiard Hautes

---

Pommard Aoc 2021

700€

Domaine Francois Mikulski

---

Les Cazetiers, Gevrey-Chambertin 1er Cru AOC 2021

460€

Henri Magnien

---

Les Cazetiers, Gevrey-Chambertin 1er Cru AOC 2020

460€

Henri Magnien

---

Chambolle-Musigny Les Drazey 2020

800€

Domaine Louis Jadot

---

Echezeaux Grand Cru AOC 2019

750€

Domaine Julien&Fils

---

Chassagne Montrachet 1er Cru "Clos de la Boudriotte" AC 2016

800€

Jean-Claude Ramonet

---

Ruchottes-Chambertin Grand Cru AOC 2021

1000€

Henri Magnien

---

Ruchottes-Chambertin Grand Cru AOC 2020

1000€

Henri Magnien

---

Clos Vougeot Gran Cru 2018

900€

Domaine D'Eugenie

---

Clos Vougeot Gran Cru 2018- Magnum

1900€

Domaine D'Eugenie

---

Clos Vougeot Gran Cru 2017

1000€

Domaine D'Eugenie

---

Clos Vougeot Gran Cru 2017 - Magnum

2200€

Domaine D'Eugenie

---

Clos De Tart 2017

1500€

Domaine Du Clos De Tart

---

Clos De Tart 2013

1500€

Domaine Du Clos De Tart

---

Clos De Tart 2012 - Magnum

3100€

Domaine Du Clos De Tart

---

Grands Échézeaux AOC 2017

4600€

Domaine de La Romanée Conti

---

France - Bordeaux

Saint-Emilion Pavillon Gr Cru 2019

120€

Château Vieux Taillefer

---

Saint-Emilion Pavillon Gr Cru 2018

120€

Château Vieux Taillefer

---

Saint-Emilion Grand Cru AOC 2019

300€

Château Vieux Taillefer

---

Pauillac De Latour 2017

180€

Vin De Château Latour

---

Pauillac De Latour 2009

220€

Vin De Château Latour

---

Pauillac De Latour 2009 - Jèroboam

900€

Vin De Château Latour

---

Forts De Latour 2015

700€

Vin De Château Latour

---

Forts De Latour 2015 - Magnum

1400€

Vin De Château Latour

---

Forts De Latour 2015 - Jèroboam

2700€

Vin De Château Latour

---

Grand Vin De Château Latour 2012

1900€

Château Latour

---

Grand Vin De Château Latour 2012 - Magnum

3700€

Château Latour

---

Grand Vin De Château Latour 2012 - Jèroboam

7200€

Château Latour

---

Grand Vin De Château Latour 2011

1900€

Château Latour

---

Grand Vin De Château Latour 2011 - Magnum

3800€

Château Latour

---

Grand Vin De Château Latour 2011 - Jèroboam

8000€

Château Latour

---

Grand Vin De Château Latour 2009

3100€

Château Latour

---

Grand Vin De Château Latour 2009 - Magnum

6400€

Château Latour

---

---

---

Toscana

Aleatico Passito dell'Elba DOCG 2017 (375ml)

60€

Fattoria delle Ripalte

---

Vin Santo Occhio di Pernice 2008 (375ml)

80€

Lanciola

---

Trentino Alto Adige

Gewurztraminer Vendemmia Tardiva DOC 2018

60€

Tiefenbrunner

---

Piemonte

Barolo Chinato 2010 50cl

80€

Conterno Fantino

---

Liguria

Passito dei Neri, Liguria di Levante IGT 2020

40€

Il Monticello

---

Passito "Nektar" IGT 2016

70€

Lunae Bosoni

---

Emilia Romagna

"NANI" Vino Rosso da Uve Stramature

45€

Villa Venti

---

Sicilia

Sartie, Marsala DOC Vergine Soleras Riserva

75€

La Vela

---

Slovenija

Leonardo, Passito Ribolla 2015

110€

Simcic

---

Francia

Foreau Vouvray Moelleux AOC 2018

110€

Clos Naudin

---

Foreau Vouvray Moelleux AOC 2017

90€

Clos Naudin

---

Foreau Vouvray Demi Sec AOC 2016

90€

Clos Naudin

---

Germany

Riesling Erdener Treppchen Auslese 1998

80€

Schwaab-Kiebel

---

Riesling Erdener Treppchen Auslese 1994

90€

Schwaab-Kiebel

---

Riesling Urziger Wurzgarten Auslese 1985

100€

Loosen-Erben

---

---