Gabriele Maiolani x Gucci Osteria Florence
Sottilissima Dark Chocolate Bar
Single origin Venezuela dark chocolate 75% with salted, caramelized hazelnut crunch, handcrafted with only the finest cocoa from Venezuela and 15% hazelnuts from Piedmonte (PGI) caramelized with a touch of Mothia sea salt. Exquisitely smooth dark chocolate that leaves a persistent aroma on the palate, with crunchy hazelnuts pieces that bring a touch of surprise in every bite.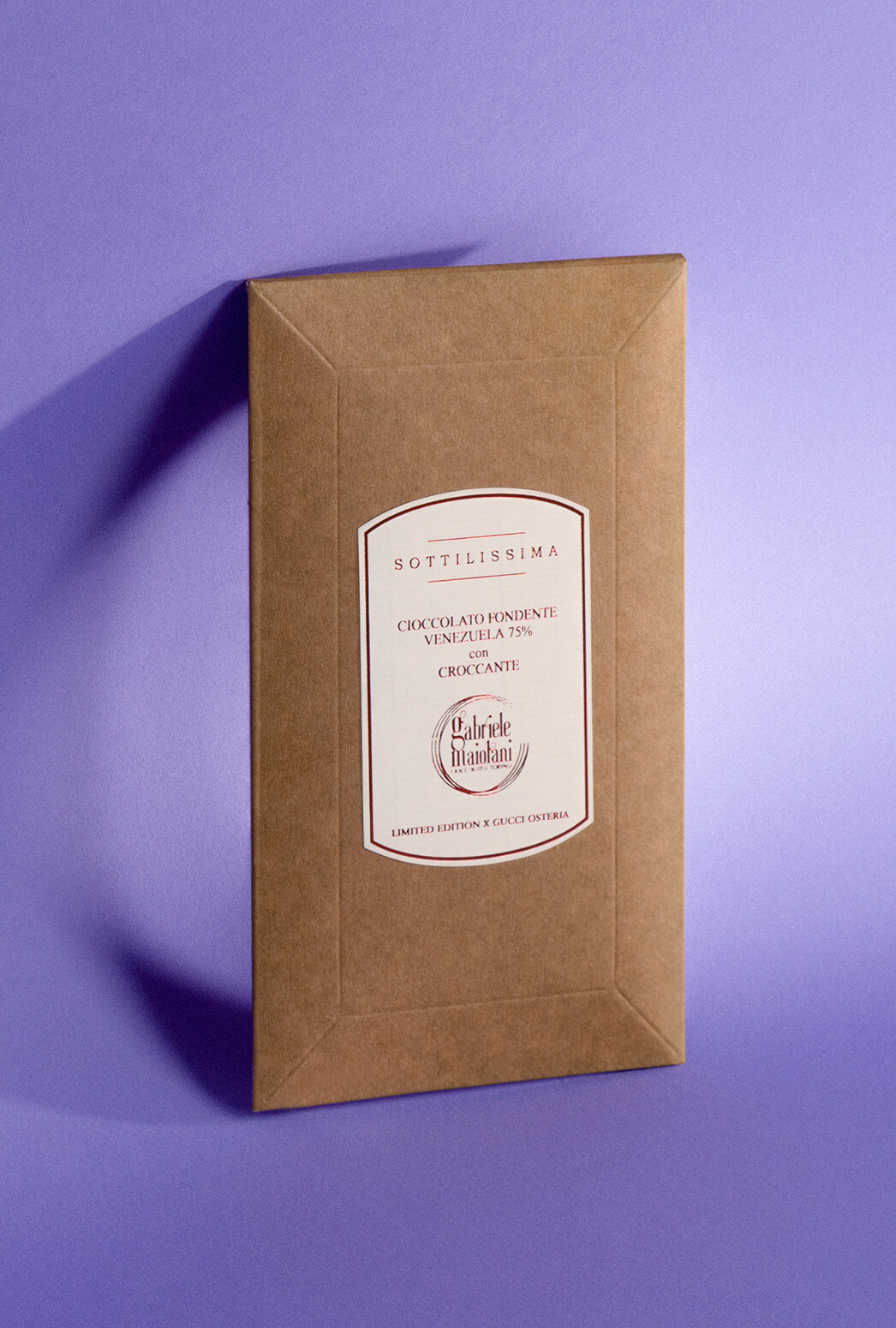 Sottilissima Dark Chocolate Bar
The selection of the best raw materials, an endearing tradition of craftsmanship, a story of passion and beauty that began with Gabriele's mother, Odilla. A range of chocolates as part of La Dispensa, an exclusive collaboration that embodies the very philosophy of Gabriele Maiolani and Gucci Osteria, bringing territorial excellence together with the creativity of Gucci Osteria Florence's Co-Executive Chefs Karime López and Takahiko Kondo.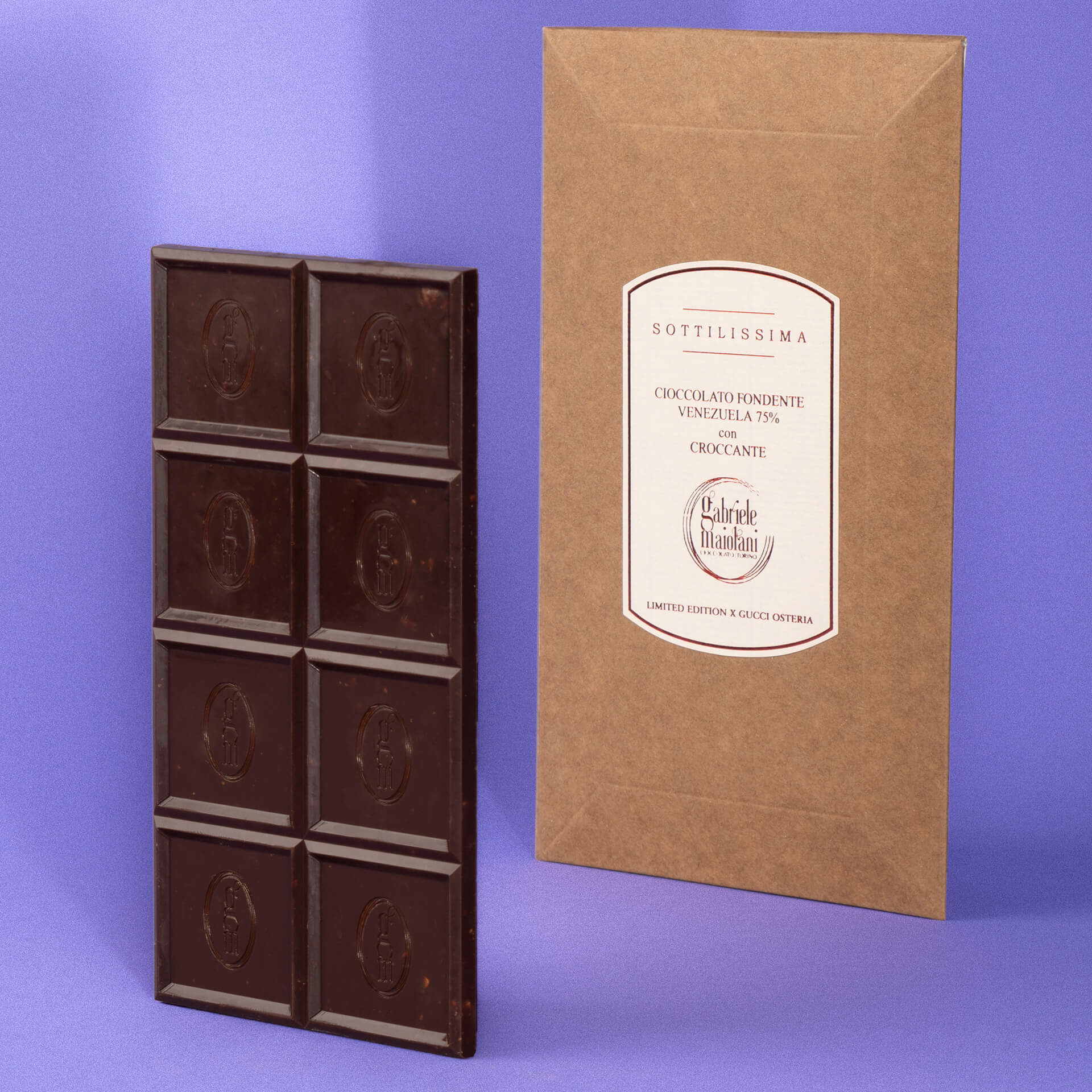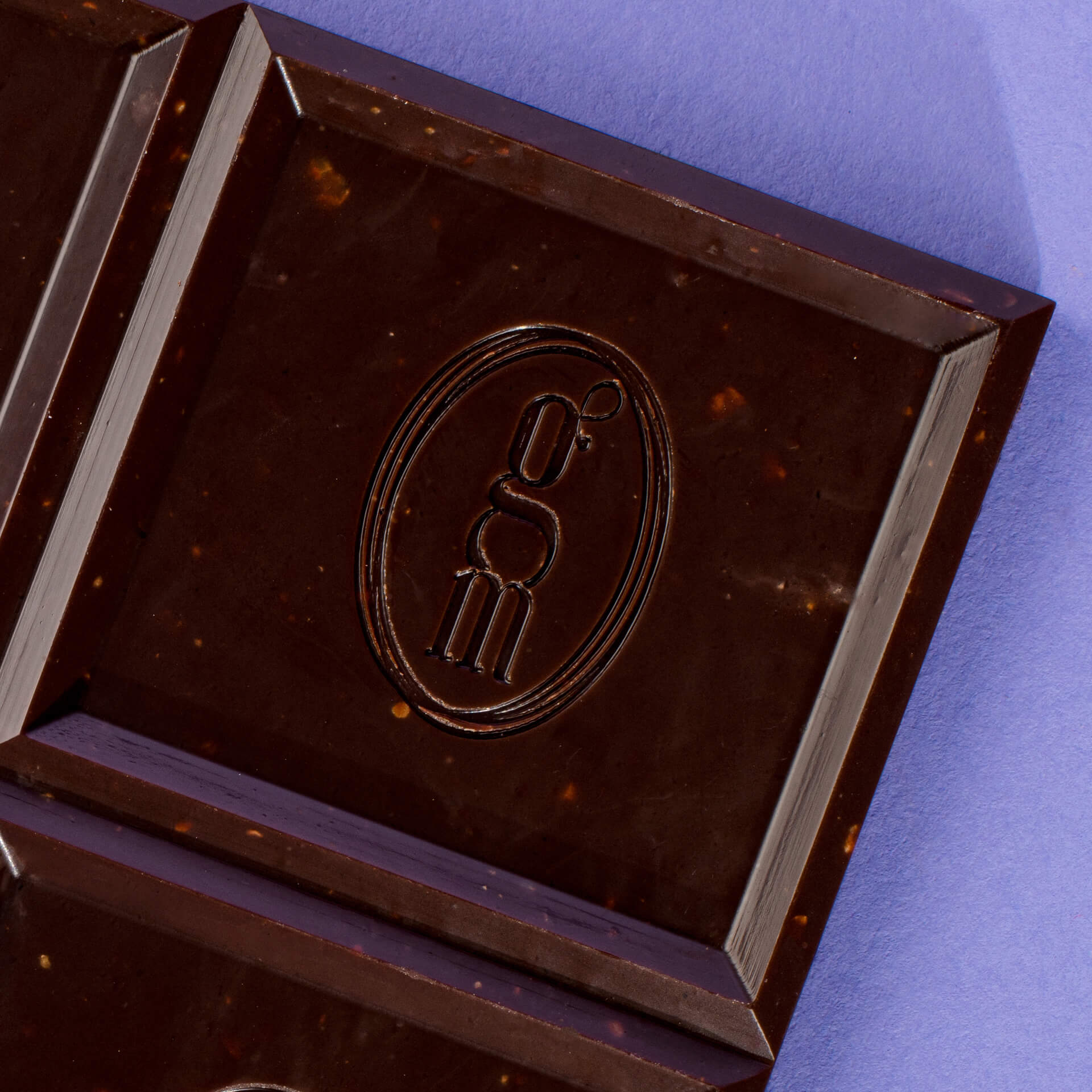 Ingredients:
sugar, cocoa liquor, cocoa butter, Piedmont *hazelnut, glucose syrup, palm oil, dextrose; emulsifer: sunfower and *soy lecithin, vanilla bean. *Contains allergens – May contain other nuts. PRODUCED IN A LABORATORY THAT USES MILK. MAY CONTAIN NUTS AND SOY.
Local Excellence, Heritage, and Joyful Creativity.
La Dispensa, Italian for 'the pantry,' is a series of limited-edition products born from the philosophy of local excellence, heritage, and joyful creativity. An intimate collection of gourmet delights are created through exclusive collaborations with selected partners. Discover our special curation designed to inspire the modern pantry and bring the Gucci Osteria magic to your everyday life.
Gucci Osteria La Dispensa
Join Us
We are inviting new partners to join us in exclusive collaborations for the La Dispensa collection. Are you a small business or an artisanal company whose products share the same values as us? Contact us using the link below.
DISCOVER