Gabriele Maiolani x Gucci Osteria Florence
Incontro Importante
Set of 3 Chocolate Bars

A set of all three Limited-Edition x Gucci Osteria chocolate bar thins for the most exquisite chocolate experience - white chocolate, milk chocolate with Peruvian cocoa, dark chocolate Venezuela 75%, all with hazelnut crunch (PGI hazelnuts from Piedmonte, caramelized, salted with Mothia sea salt) made using only the best raw materials sourced from all over the world, and handcrafted by the masters of chocolate at Gabriele Maiolani in Turin. Chocolate bars are also available individually at our e-shop.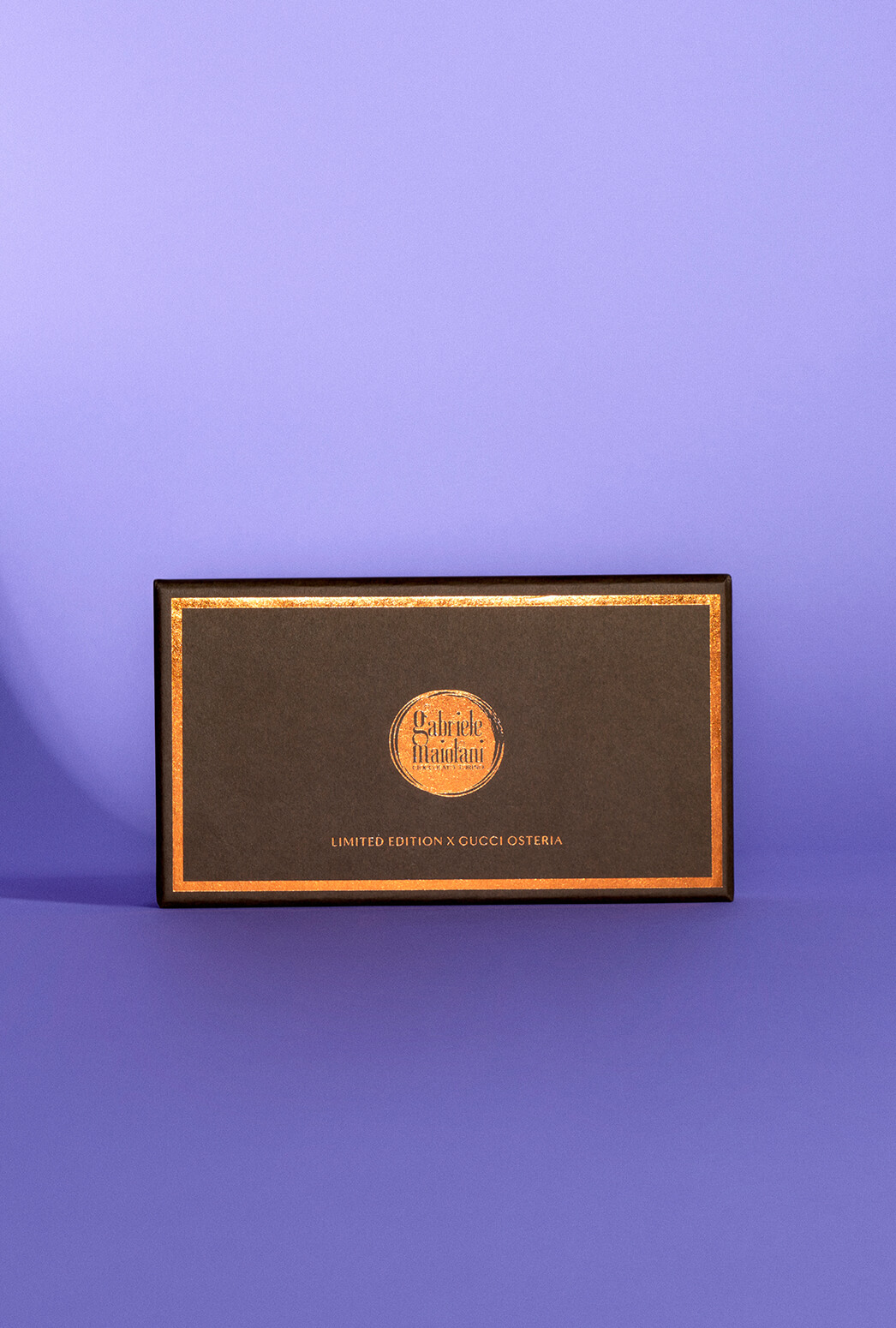 Incontro Importante - Set of 3 Chocolate Bars
Artisanship, quality, and tradition. Celebrated chocolatier from Turin, Gabriele Maiolani (also known as Odilla Torino), is the latest to join La Dispensa. A limited edition set of premium chocolate bars, aptly named 'Incontro Importante' meaning, "An Important Encounter", created exclusively in collaboration with Gucci Osteria's Co-Executive Chefs Karime López and Takahiko Kondo for La Dispensa.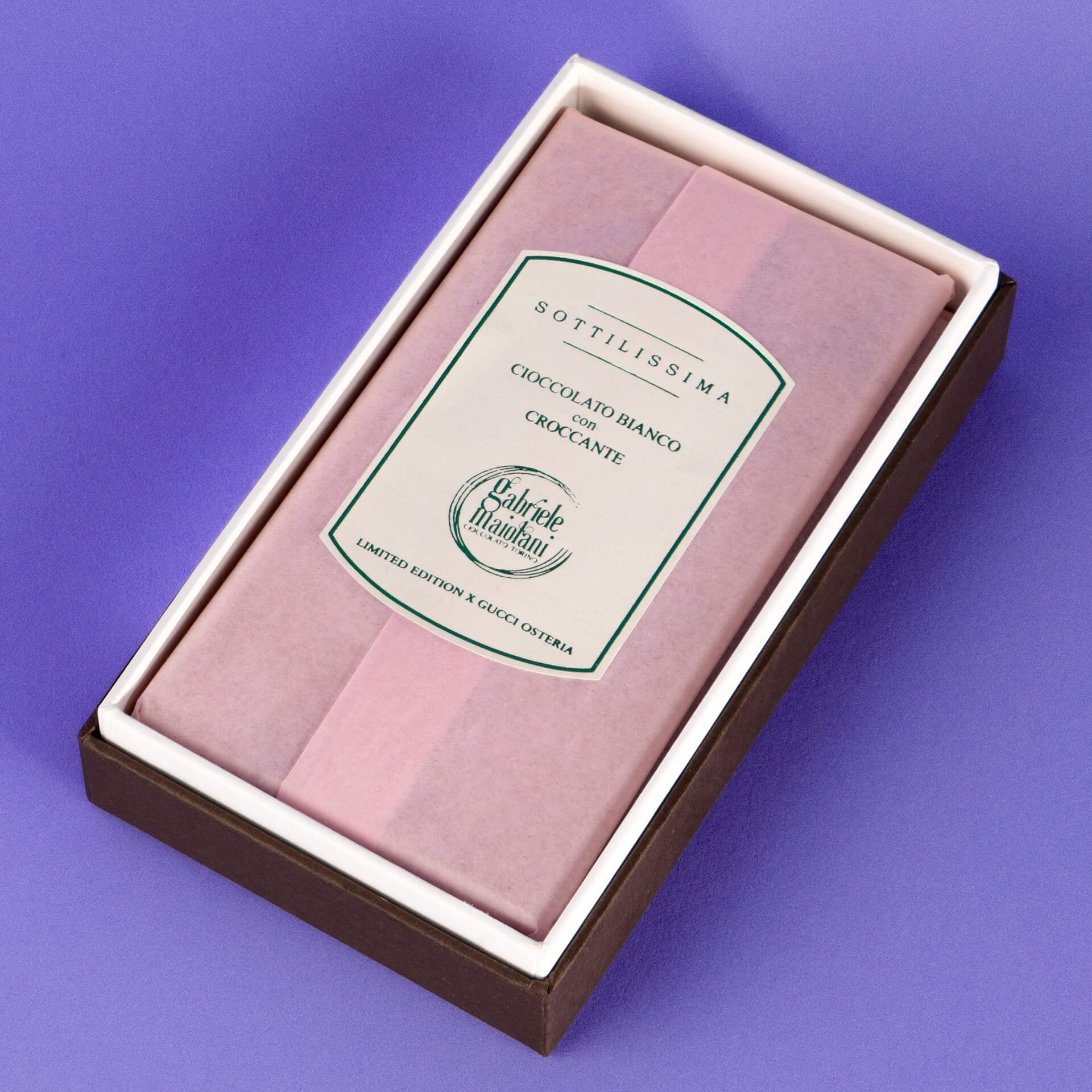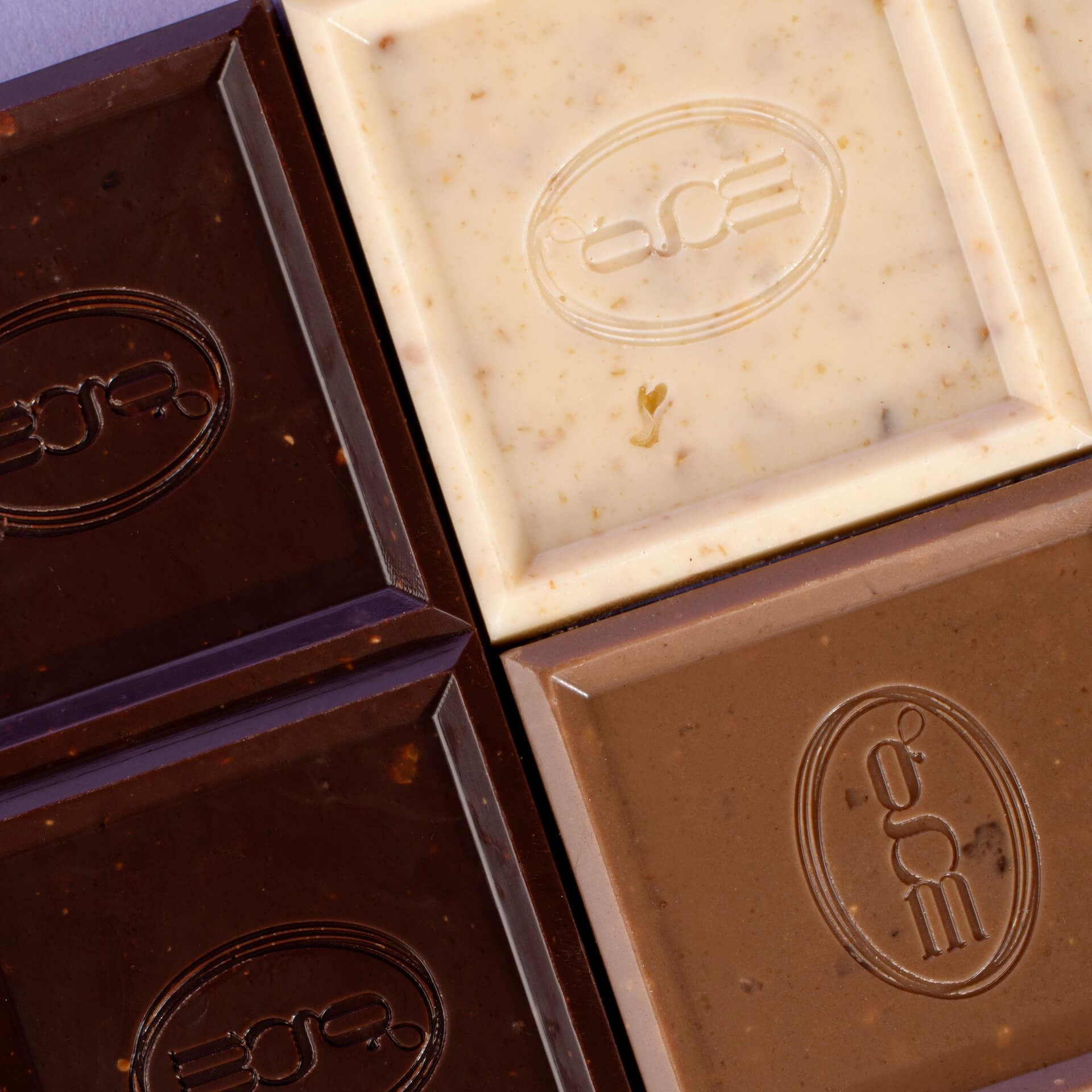 Ingredients:
sugar, cocoa liquor, whole powder *milk, cocoa butter, Piedmont *hazelnut, glucose syrup, palm oil, dextrose, salt; emulsifer: sunfower and *soy lecithin, vanilla bean. *Contains allergens – May contain other nuts. PRODUCED IN A LABORATORY THAT USES MILK. MAY CONTAIN NUTS AND SOY.
Local Excellence, Heritage, and Joyful Creativity.
La Dispensa, Italian for 'the pantry,' is a series of limited-edition products born from the philosophy of local excellence, heritage, and joyful creativity. An intimate collection of gourmet delights are created through exclusive collaborations with selected partners. Discover our special curation designed to inspire the modern pantry and bring the Gucci Osteria magic to your everyday life.
Gucci Osteria La Dispensa
Join Us
We are inviting new partners to join us in exclusive collaborations for the La Dispensa collection. Are you a small business or an artisanal company whose products share the same values as us? Contact us using the link below.
DISCOVER