Culinary Carousel with Jordi Roca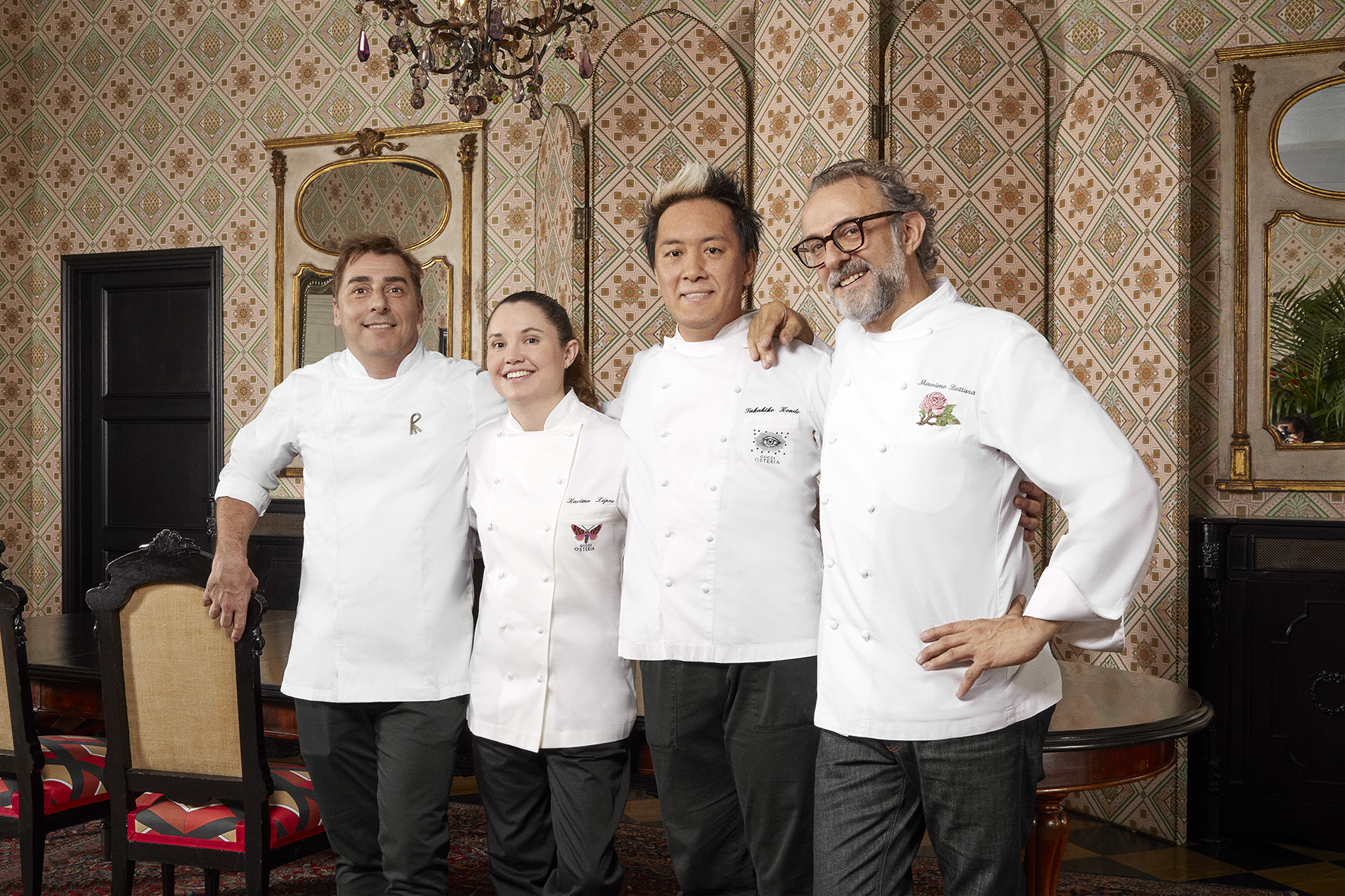 On the 28th of July, Gucci Osteria in Florence welcomed chef Jordi Roca of three-Michelin star El Celler de Can Roca, Spain, in its first Culinary Carousel, a series of evenings designed to transform the kitchen into a culinary wonderland celebrating multicultural cuisine. The evening saw the renowned pastry chef with Massimo Bottura and hosts – Florence's Co-Executive Chefs – Karime López and Takahiko Kondo swapping their usual stations in the kitchen, treating guests to a surprise menu that took them on a journey of gastronomic discovery.
With the main order of the evening being that of changing roles (or 'stations') between the chefs, chef Roca created three savory dishes that recalled some of his iconic creations as a pastry chef. A fig gazpacho inspired by the Gucci Flora Gorgeous Gardenia fragrance, Fig Gazpacho with Floral Hits was followed by Journey to Havana with Smoked Eggplant and a Cigar – the latter which recalled his famous dark chocolate "cigar" ice cream dish at El Celler de Can Roca, made immortal through the Netflix series Chef's Table. The next act was a golden sphere: Poma d'or Pomo d'or with Sobrasada and Grilled Apple – a play on words, it consisted of a carefully blown fake 'tomato' dressed in a gold leaf that cracked open to reveal its delightfully colorful innards of grilled apple and sobrasada (Spanish cured sausage).
The evening continued with chef Kondo's dish: The Cannoli that Wants to Become a Cannelloni, a 'deceiving' cannoli that was filled with umami-rich ragù and salted ricotta mousse. Meanwhile, chef López's dish Charley Marley Goes to Mexico, was a tribute to chef Bottura's son Charlie (and his favorite dessert dish), but transformed into a savory chocolate and banana medley that played with her childhood memories in Mexico.
Last but not least, dessert was by chef Bottura, the world-renowned chef of Osteria Francescana and mentor chef to López and Kondo, with his Almost a Spaghetti with Tomato Sauce. A whimsically sweet spin to spaghetti al pomodoro, it was a whirlwind tour of Italy through its notes of Sicilian almonds, amarena from Modena, peppers from Piedmont, spaghetti from Gragnano, and capers from Pantelleria, aptly concluding the guests' journey that evening.
Since its beginnings in 2018, Gucci Osteria da Massimo Bottura has always embraced the concept of creative experimentation and multicultural influences in food, while always being faithful to the culinary legacy of its location, Florence, and the food philosophy of chef Bottura. Unusual dining events such as the latest Culinary Carousel allow Gucci Osteria to further explore its contemporary identity, inviting highly acclaimed international chefs and allowing them the freedom to experiment and express their creative vision outside of their usual grounds.