From Seoul: An Exclusive Q&A with Our Chefs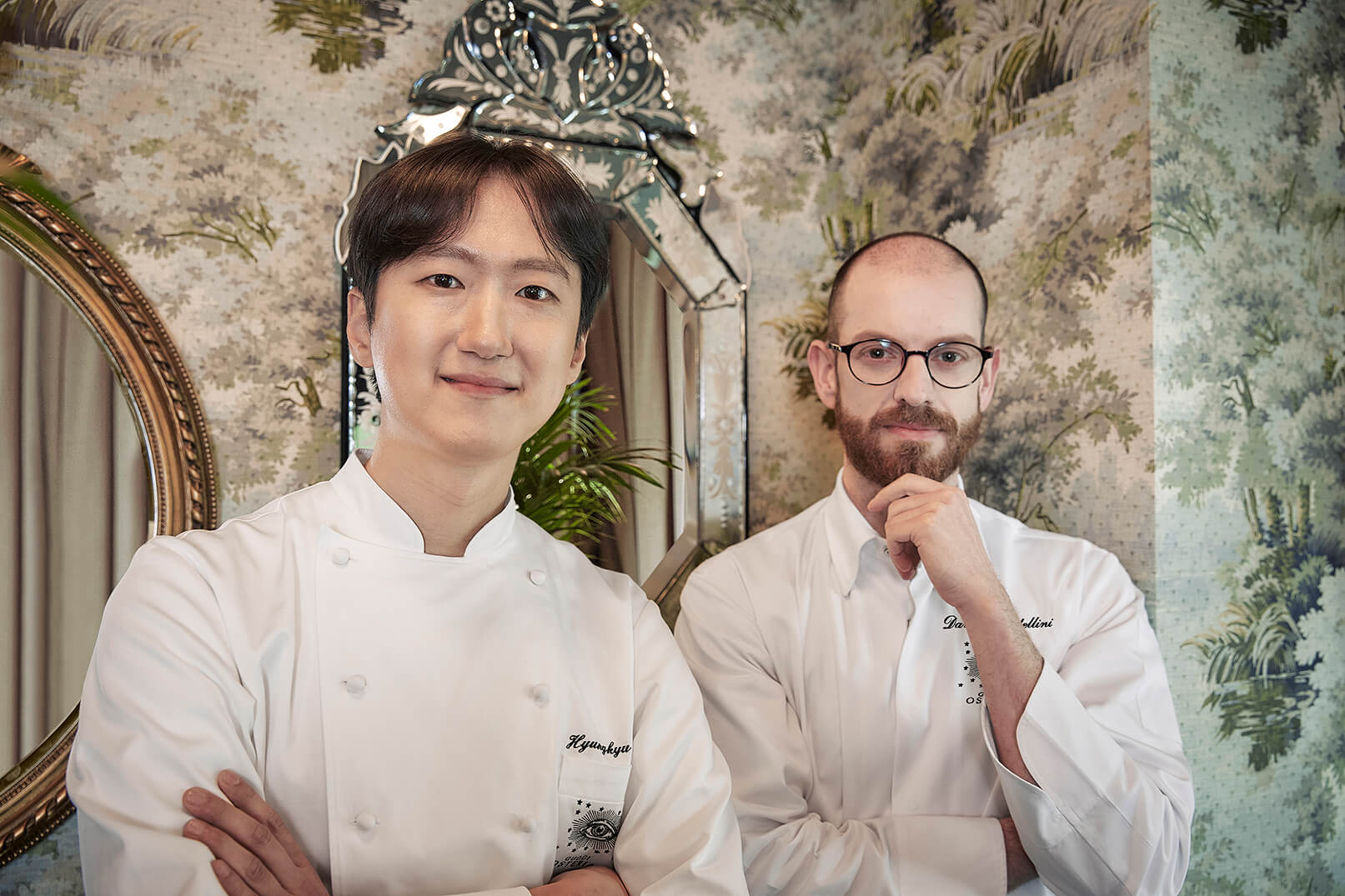 Chefs Hyungkyu Jun and Davide Cardellini head the team at Gucci Osteria Seoul where they are creating a youthful, contemporary cuisine that reimagines traditional Italian flavors with the creative and innovative use of local Korean flavors and techniques. They bring their vastly different backgrounds and experiences to the kitchen, inspiring their food at Gucci Osteria Seoul and many others on the way. Jun and Cardellini took some time away from their busy schedules to share some insights on what inspires their work.
Q. What is your favorite dish at Gucci Osteria to prepare and why?
DC: My favorite dish to prepare at Gucci Osteria is Summer in Adriatico, a dish that owns a special place in my heart because of the memories that it evokes regarding my family and my hometown.
HJ: Seoul Garden, the first dish I created for Gucci Osteria Seoul. It is an edible bouquet of lettuce, herbs, flowers, parmigiano chips flavored with balsamic, anchovy, citrus vinaigrette, edible butterfly on top. Its freshness, fragrant aroma and visual effect makes me smile all the time.
Q. What cuisine inspires you the most?
DC: My culinary DNA is Italian, so this is the springboard of my cuisine. I find Asian cuisine fascinating. Korean, but also Japanese, and Indonesian are my favorites.
HJ: Korean, Italian, French and Japanese.
Q. How do you describe your cooking philosophy?

DC: The philosophy behind my cooking would be one that puts the guest experience at the very center. Although technique dictates precise rules in the culinary world, I always look to the final goal: enjoyment of the entire experience (food, service, atmosphere, etc.). Sustainability is another keyword – as a holistic topic that includes all the resources necessary to create our product: human (work-life balance) as well as environmental (ingredients, landscape, energy). These are the two pillars of my cooking.
HJ: I was born in Busan, Korea, then spent 4 years of my childhood in Southeast Asia. I learned cooking in Vancouver, New York, Paris, and Italy. I ran a Japanese restaurant, and am now living in Seoul. I have been exposed to diverse cultures and flavors and these experiences influence my cooking. I also strongly believe in sustainability, in making the world better for the next generation.
Q. What is your favorite Italian or Korean food?
DC: I will always remember the kimchi jjim (braised pork and kimchi) I was offered only a few months after I moved to Korea in 2016. Delicately tangy kimchi and mouth-melting pork braised together – it has been vividly stamped in my memory ever since. It is also a recipe that I love to cook at home for my Korean wife and in-laws.
HJ: Italian – tagliolino tartufato (truffle tagliolini pasta), Korean – bori gulbi (dried yellow corvina fish aged in barley) with green tea rice.